Metro Atlanta Brusters Ice Cream for Sale – One Owner 20-Years – $60,000 Net Profit – Easy to Run
Photo Gallery
Metro Atlanta Brusters Ice Cream for Sale – One Owner 20-Years – $60,000 Net Profit – Easy to Run
Additional Info
| | |
| --- | --- |
| City | Atlanta |
| State | Georgia |
| Country | United States |
| Phone | 7708402121 |
| Rent | $1600 monthly rent all |
| Building Square Footage | 1200/sf. |
#4002
Metro Atlanta Brusters Ice Cream for Sale
Dekalb County Georgia Location
1200/sf.
$1600 monthly rent all in.
One Owner almost 20-years.
Profitable.
Sales and Profit numbers will be provided upon request.
Owner runs this unit with 7-P/T staff members.
$300,000 opening costs.
Priced at $149,000.
Bruster's History
Bruster's was founded in 1989 by Bruce Reed whose passion for fresh high-quality food and stellar customer service runs deep. Bruce's father, Jerry Reed, opened the legendary Jerry's Curb Service in Bridgewater, PA in 1947 after completing a tour of service in the US Airforce. The quintessential car hop remains a staple in the Pittsburgh area.
In 1989, Bruce searched for a complimentary business to open on the land adjacent to his family's car hop restaurant. After carefully crafting his rich and creamy ice cream recipe, he opened Bruster's for his sister to run. Before long, Bruster's became the preferred neighborhood ice cream store and Bruce started franchising to friends and family in 1993. While we've come a long way from those early days, we adhere to the guiding principles that have made Bruster's the revered brand that it is today. We serve generous portions of our fresh-made ice cream to guests that we value like family.
Why Bruster's
With nearly 200 franchised locations, Bruster's is an established brand with widespread recognition, a strong fan base, and a community of loyal franchisees. We asked our franchisees why they joined our family. In honor of our 30th anniversary, here are 30 reasons why you should consider joining our family too:
A Bruster's® Real Ice Cream store is a place where people come happy and ready to make a memory!
This business is a catalyst for community connections and family celebrations. You will mentor young employees. Your ice cream becomes the basis for special family traditions and your patio becomes a gathering place for celebrations.
Join Our FamilyAs a Bruster's franchisee, you become a valued member of our family and that means something! You can count on a franchisor that will listen and provide guidance and support based on 30 years of experience. In addition to the committed corporate support team, you will also have access to franchisees that have been operating their Bruster's, some for decades, to learn best practices and avoid pitfalls of small business ownership.
Premium Products
The Bruster's® difference starts with our proprietary home-style mix, delivered fresh from our dairy to each store, where small artisan batches of ice creams, yogurts, ices and sorbets are made fresh onsite. Every Day, each location offers at least 24 custom, decadent flavors from over 150 recipes available.
If you haven't tried our ice cream before, you must taste for yourself the reason we are a scoop above the rest.
Frequently Asked Questions
THERE ARE LOTS OF ICE CREAM SHOPPES, WHAT MAKES BRUSTER'S DIFFERENT?
In addition to making our rich and creamy ice cream fresh daily, our franchisees deliver cherished moments and memories by providing a gathering place in their community for friends and families to celebrate their milestones. Our unique walk-up model, with multiple service windows, also allows our franchisees to promptly service the ebb and flow of customers and maximize their revenue opportunities. The Bruster's brand has always been A Scoop Above the Rest™!
OTHER THAN ICE CREAM, WHAT ELSE DOES BRUSTER'S OFFER?
While Bruster's is known for its decadent ice cream, our franchisees also offer gluten free and no sugar added ice cream. Some of our flavors are year-round favorites while others are seasonally available. We serve frozen yogurt and sorbet, while custom cakes and pies are available for take-out. Finally, we offer an endless combination of sundaes, blasts, and shakes. There is literally something for everyone! Not a trend or a fad. All of these options create additional revenue opportunities for our franchisees.
EVERYTHING IS MADE FRESH DAILY, WHY IS THAT IMPORTANT?
I DON'T KNOW ANYTHING ABOUT MAKING ICE CREAM, IS THAT A PROBLEM?
HOW DO YOU HELP FRANCHISEES MAXIMIZE THEIR INVESTMENT?
DO I HAVE TO WORK IN THE STORE EVERY DAY?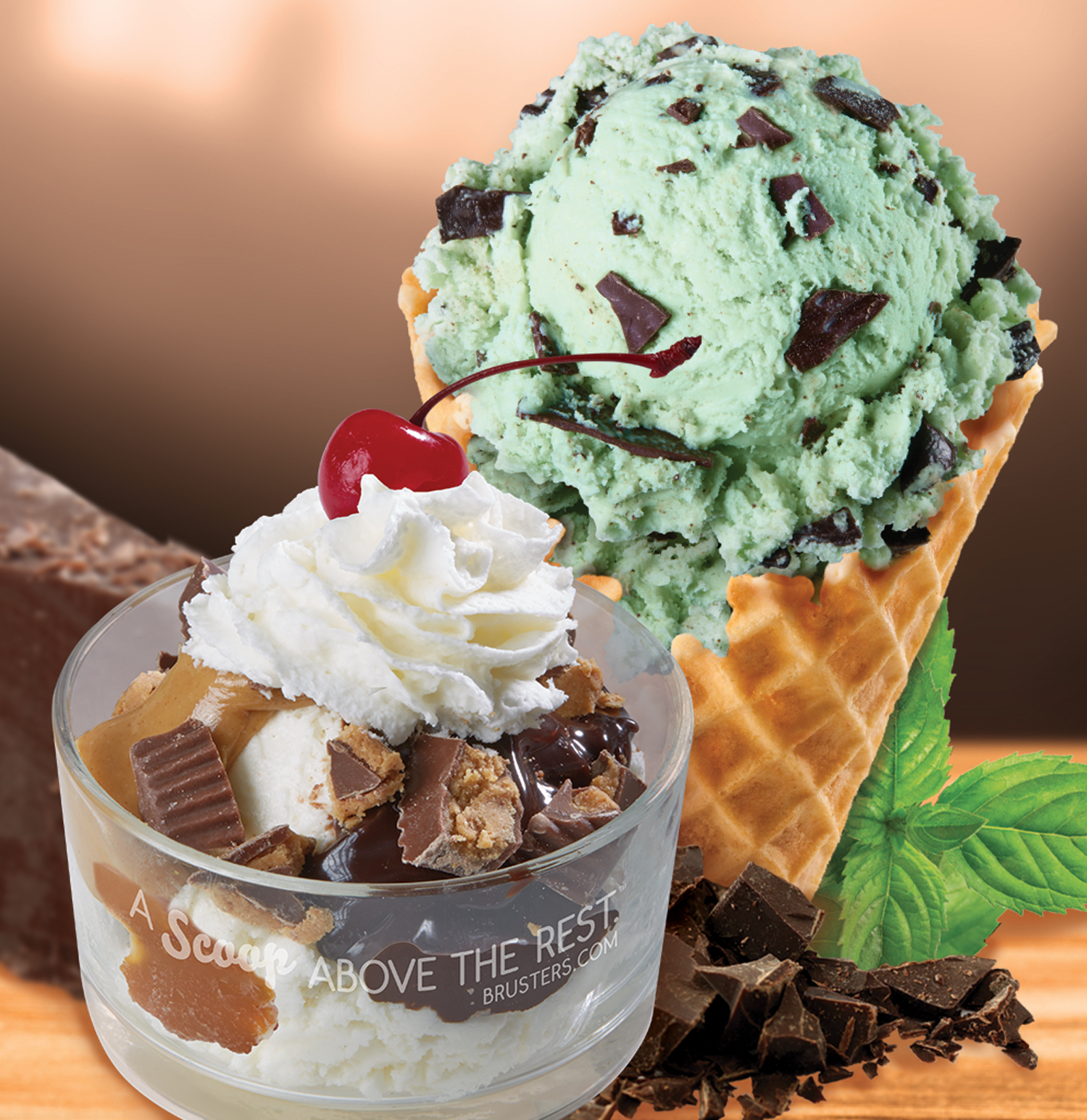 Franchise Business Review completed an independent satisfaction survey of the Bruster's Real Ice Cream franchise system.  The results are in and we are proud to say that our franchisees rated us higher than the industry benchmark. In fact, Bruster's was named a Top 25 Food and Beverage Franchise by Franchise Business Review. To see the complete survey results, please submit the request for information short form.
30 Reasons to Join Our Family
1. Fun, rewarding business
2. Premium, fresh-made products
3. Quality controlled from cow to cone
4. Simple business model
5. High-demand product, not a fad
6. Limited overhead
7. No staffing issues
8. Innovative, ever-changing product selections
9. Currently in Sixth Consecutive Year of same store sales increases
10. Privately-held company
11. Improved quality of life
12. Pride of ownership
13. Supportive, collaborative franchisor
14. Multiple revenue streams
15. Community connection
16. Fundraising opportunities
17. Opportunity to mentor youth
18. Innovative product and flavor selections
19. Tenured, committed leadership team
20. Discounted franchise fee for subsequent units
21. Discounted franchise fee for veterans
22. No renewal fees
23. Generous, exclusive trade areas
24. Plenty of open markets
25. Hands-on site selection
26. Refined and proven business model
27. Owner-operator or semi-absentee model
28. Lower capital investment in food category
29. Sophisticated data-driven analytics
30. Comprehensive national marketing program
Franchisee Satisfaction Survey:

Listing Owner
Member Since: February 8, 2021
Steven L. Josovitz: Vice President, Shumacher Restaurant Brokers GABB Member: Broker Since 1992 | Business Broker: Since 1986 How long have you been with the company? 15 years What role do you play within your company? I head up the Business Brokerage Division. What is the focus of your company, and how does it differentiate itself? Commercial Restaurant Real Estate and Restaurant Business Brokerage. We are the of the oldest Restaurant Brokerage companies in Georgia that does site selection for National, Local and Regional restaurant chains in addition to representing Buyers and Sellers of business's i.e. restaurants, clubs, bars, caterers, commissary's, bakeries, sandwich shops, etc. In addition, we represent several retail chains in their search for locations. Finally, our organization does consulting and have been retained by law firms to do advising and or expert witness work.
Contact Owner
You must be logged in to inquire about this ad.